Measure the small changes in force that affect part quality and your bottom line!
The quality of any formed, blanked, coined or stamped part is directly related to the forming force applied to it. Our in-die systems include the monitoring techniques required to accurately measure and control the forces developed at each sensor location. Helm systems ensure consistent part quality production while guarding against costly tooling damage and machine repair.
In-Die Strain Gage Load Cells
Helm offers precalibrated, custom designed load cells fit to your unique tooling. By applying force sensors beneath critical tool stations  Helm sensors are able to capture the individual force signal while also maintaining individual multi-station tool force signals. No field calibration is required.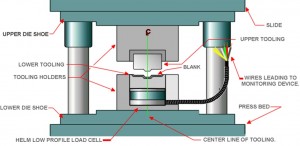 Die Plug Force Sensors
The Helm Die plug sensor is the ideal sensor for in die general purpose monitoring and commonly paired with the Helm loadgard monitor for high speeds of up to 1,000 SPM.   The Typical applications include transfer tools, progressive dies, and can end tools for Hole piercing, staking, and riveting.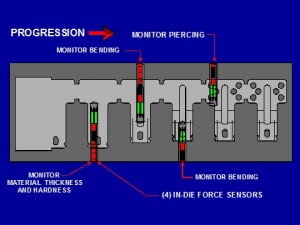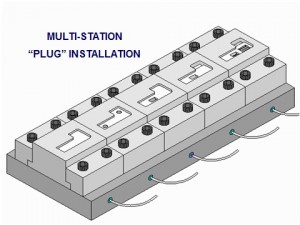 Piezoelectric Dieplugs
Designed for high speed light load applications including high speed progressive dies and coldforming operations the piezoelectric dieplug solution may be paired with the  Helm piezo Partgard / Multigard Monitor for speeds up to 2,000 SPM.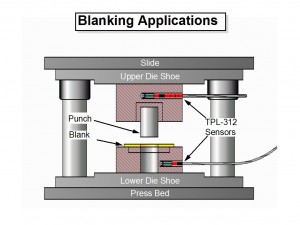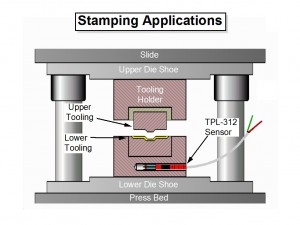 In-Die Sensor Monitors
Helm offers multiple sensor indicators ranging from 1-6 channels of strain gage input. Each signal conditioning unit provides independent channels of strain gage input with high and low alarm setpoint capability.
Applications & Features
↑Top↑
In-Die Force Sensor Applications
Progressive Dies
Stamping Presses
Multi-Die Operations
Transfer Tooling
Assembly Machines
Compaction Machines
In-Die Force Sensor Features
Available in 1/4 inch (6.3mm) or 5/16 (8mm) diameter sizes
Improve production and process reliability by identifying a defective part at its origin
Reduce material waste and tool damage by sensing improper forming forces
Low cost, trouble free installation
Interchangeable design with quick disconnect cable assembly