HRPX And HRPZ Safety Lights
Safety Lights Two Component Design Eliminates Box Control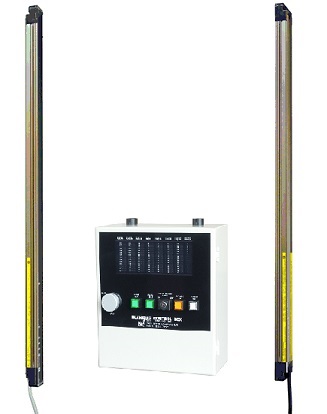 HRPX and HRPZ-4 safety lights feature a two component system that does not require a separate control box. State of the art circuitry allows the transmitter and receiver to be wired directly into the safety relay inside your control cabinet or PLC. An internal diagnostic circuit continuously monitors the operation of the lights for maintaining their UL and CE safety certification. These lights also carry a category 4 safety rating – the highest level attainable by the international safety council. Standard protection heights range from 12 to 50 inches with beam spacing of 9 or 15mm.
Safety Light Features
9 or 15mm beam spacing
LED indication of light intensity to aid in alignment
UL and CE approved
Pre-wired to accept multiple light applications
Detection range of up to 30 feet
Auxiliary output for PLC connection
Protection heights from 12 to 50 inches
Complies with OSHA, ANSI, IEC61496-1, EN61496-1 safety requirements
Self checking control reliability
Safety Light Applications
Stamping Presses
Robots
Conveyors
Transfer Equipment
Welding
Assembly Machines
Automation Lines
Perimeter Guarding
Additional lengths available. Please contact factory.
Each set of lights includes one transmitter, one receiver and two 23 foot inter-connect cables.
Double ended cables for series connection available. Consult Sales@Helminstrument.com for pricing.
OPTIONS: SC11 Blanking Module, HMK-24 Power Supply, HM-301-DC-24 Safety Relay
Safety Light Specification
↑Top↑
| | |
| --- | --- |
| Supply Voltage | 24 VDC +/- 10% |
| Light Source | Infrared LED (870 nm wavelength) |
| Response time | 10-15 msec |
| Beam spacing | 9 or 15mm |
| Scan distance | up to 33 feet |
| Certified compliance | OSHA, ANSI, 1EC61496-1, ENC61496-1 and UL508 |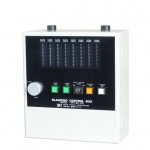 Fixed and floating blanking is available with RPX-CCD control box.