Forge Press Monitor's Main Screen Features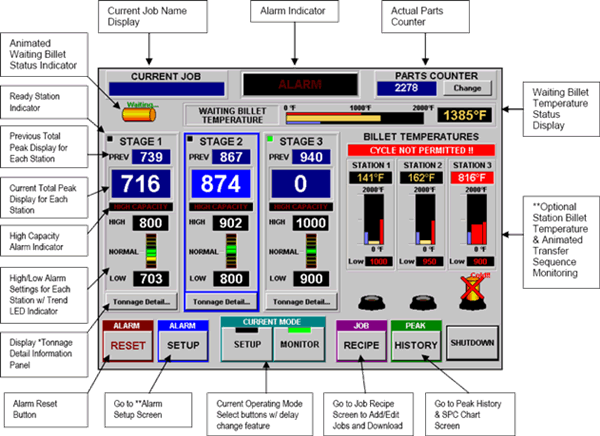 Tonnage Detail Information Panel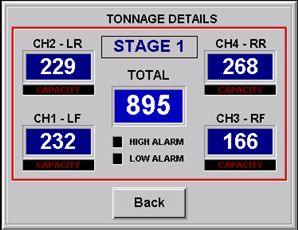 Tonnage Detail Information Panel shows the individual peak tonnages of each frame for a station. It also shows capacity alarms of each frame and High/Low alarms as well.
Optional Station Billet Temperature & Animated Transfer Sequence Monitoring
This is the optional Billet Temperature Monitoring feature. As a billet is transferred thru each station, the monitor displays the temperature of the billet and keeps track of its transfer sequence. If either of these conditions goes out of the preset tolerance for the job, the TFG4300 non-latching output relay will disengage, preventing the press from starting.
Once the alarm conditions are corrected, the relay is automatically reset, allowing the machine to cycle. This feature will not allow any operator error which could cause costly damage to tools or the machine. The transfer sequence must be programmed in the Alarm Setup screen for each job to take this advantage. Temperature sensor inputs (0-10VDC) are required for this feature.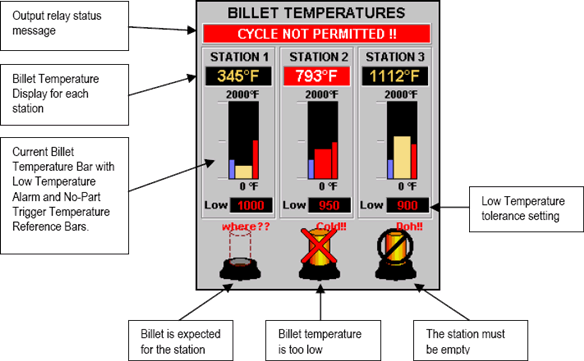 Alarm Setup Screen
Other Features of the Forge Press Monitor