PTM Loadgard Series Through-Stroke Tonnage Monitor and Signature Analysis
The PTM Series monitor is an extremely versatile controller that combines Helm force monitoring circuitry and the latest in embedded PC technology. Powered by Helm PTM signal conditioning modules, this advanced process control system features real time signature analysis, large job recipe storage and complete load monitor functionality.
With built-in provisions for housing two to eight channels of monitoring, the system is easily configured to fit your specific application. All operator adjustments including machine capacity limits, tooling protection alarms, parts counters and job download are made through the rugged, full color touch screen display.
Signature Analysis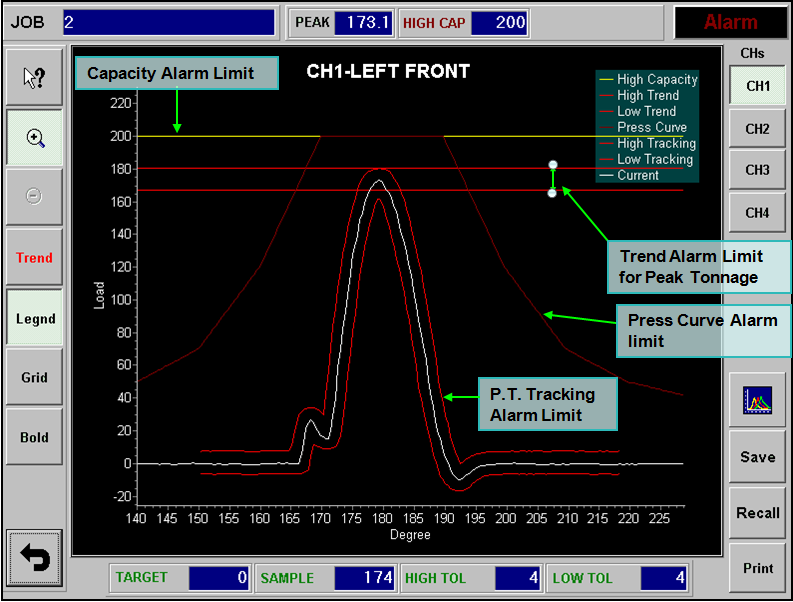 When interfaced with the Helm HR-1101 resolver, the PTM integrates force with crank angle for detailed thru-the-stroke monitoring. Upper and lower control limits are set around the entire or pre-selected areas of the forming signature for verifying the quality of each part produced. In addition to the upper and lower control limits, the press curve as established by the machine builder is digitized to become an alarm set-point. Machine shutdown is initiated if the tonnage exceeds these limits at any time during the machine cycle.
Unique Tacking Alarm Feature
The PTM Loadgard series also features our unique PT (Perpendicular Tolerance) Track sampling technique that tonnage tolerance alarm limits envelop around the force signatures evenly throughout area. This reduces the nuisance alarm dramatically and allows the system to be sensitive enough to detect the subtle variations in tonnage due to changes in material thickness or hardness, inconsistent die lube, worn tooling, slugs, splits and wrinkles.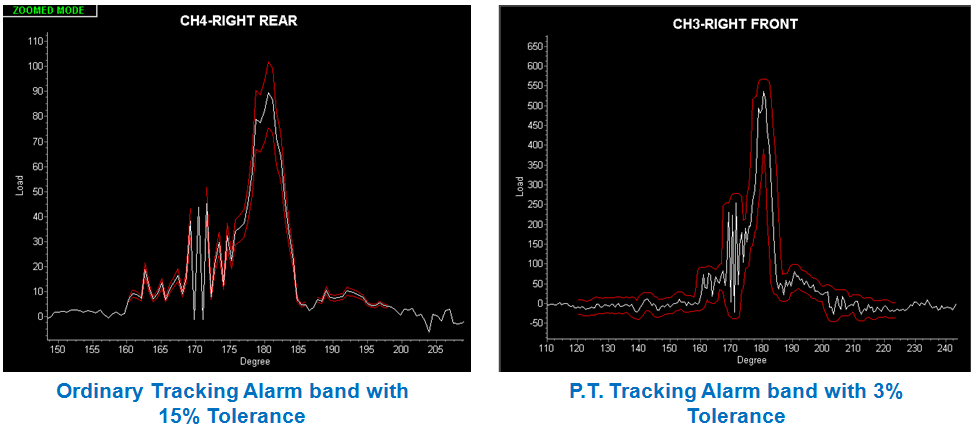 In addition, VR (Variation Range) tracking option even gives more flexibility to your tracking alarm needs
Saving,  Recalling, and Overlaying Signatures
PTM Loadgard automatically stores the last 700 stokes of tonnage signatures and 300 fault incident signatures independently. Simple to use recall feature allows up to 20 stored signatures and overlay together on one screen for the analysis of  hit to hit force signature trend variations so easy.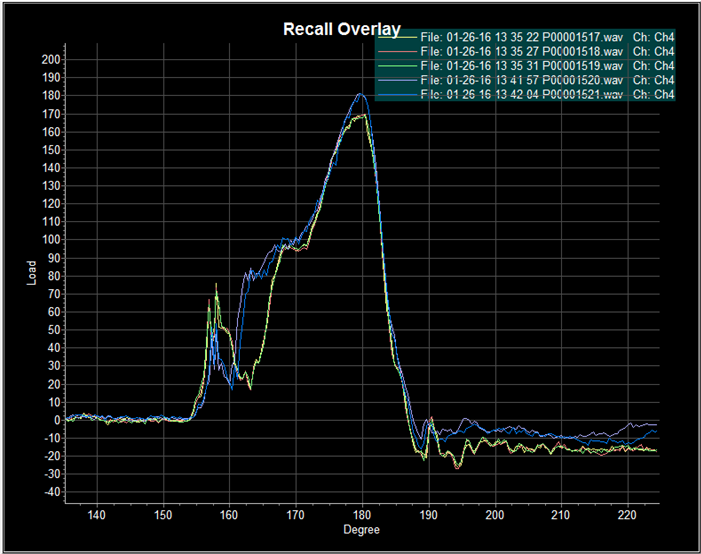 Peak History
PTM Loadgards is capable of storing last 4 million strokes of tonnage information.  The monitor has the built-in peak history graph that you can easily monitor the trend of peak variations in any given time in the past or you can export the data to CSV file into your USB memory and bring up on your spread sheets. The each stroke of peak history data contains date & time, peak tonnages per channel, job no, and tonnage alarm flags if any.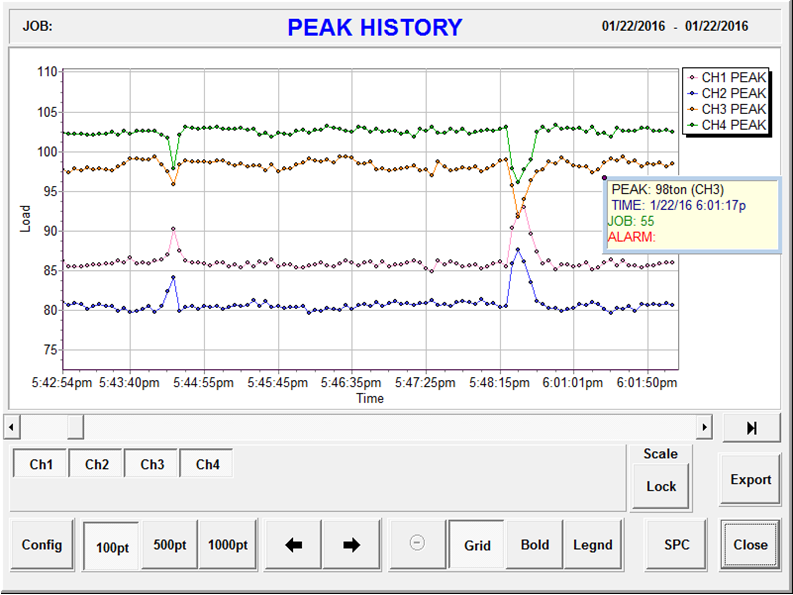 SPC Chart
Built-in variety Statistical Process Control chart from the peak data sampled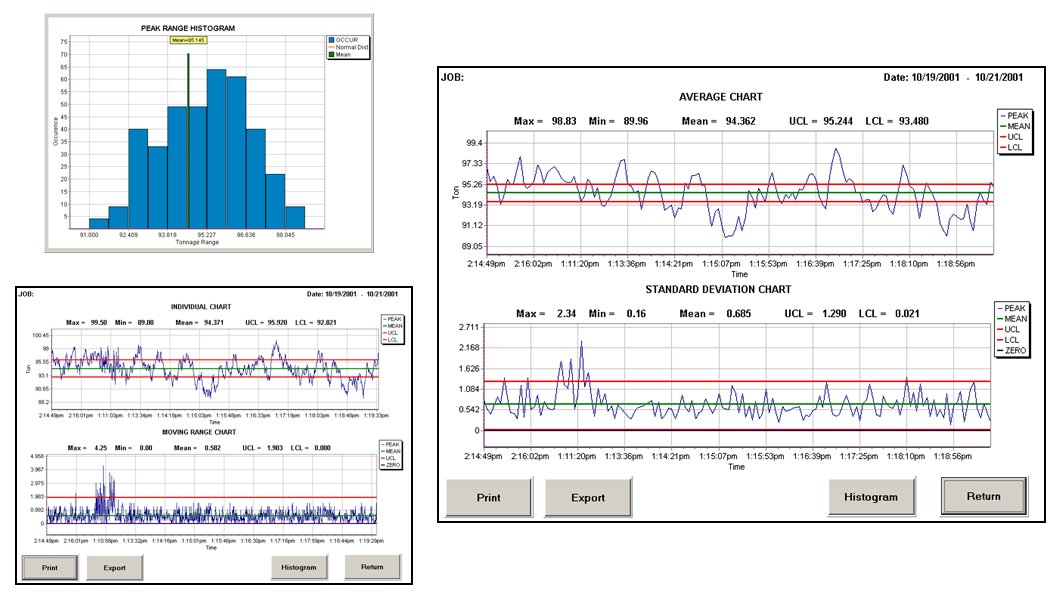 Job Recipe
Store up to 1000 job storage for easy job download during ADC.
With the optional ADC feature, PLC can send a job number to PTM Loadgard to download the job automatically upon ADC.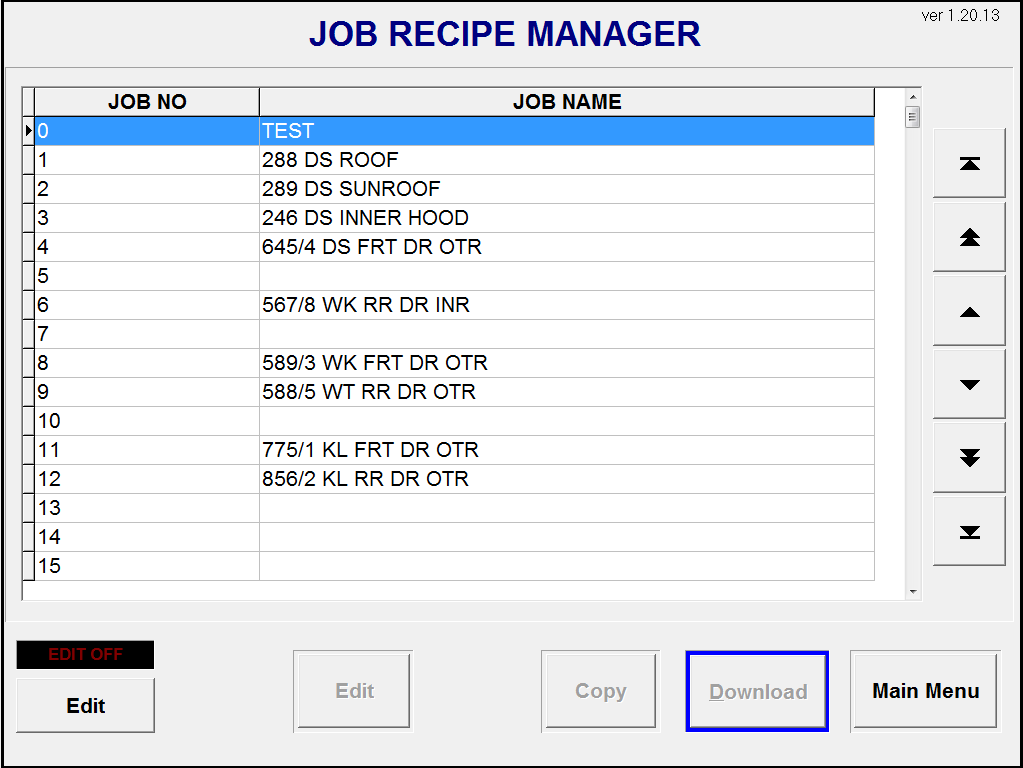 Optional Line Supervisor& ADC (Automatic Die Change) Connectivity
Communication technologies from Helm offer tools to the automotive industry to monitor and control the stamping press line. With a PTM Loadgard on the lead press, the job setup data can be transferred to a series of RLG monitors down the line. With feedback for a PLC, automatic die change (ADC) parameters are downloaded to the line.  PTM Loadgard support variety communication method with PLC for ADC feature
Direct I/O hard wiring
ASCII Serial Communication
Allen-Bradley Ehternet/IP Connection
Siemens Profibus-DP
Siemens ProfiNet
Modbus/TCP
Plantwide Manufacturing Software
Helm FirstMate WebView is a browser based production reporting software provides two way interface between the systems on the shop floor and remote PC's via dedicated or Ethernet communication. This user friendly software package generates the high speed statistical data acquisition and real time graphical waveforms required for providing measured feedback on a specific production run. Comprehensive database integration variables including x bar analysis charts, histograms and downtime event reporting are standard features of FirstMate WebView.
Power requirements
110 or 220 Volts AC ± 10%
Inputs
Two to Eight channels of strain gage
0-10VDC input(s) for linear transducer or any other analog output devices
One 24 VDC input for remote reset.
One 24 VDC input for Stroke Bypass or Remote mode change.
Communication Ports
One Ethernet and Four RS-232 for FirstMate 2000, Line Supervisor, PLC connection for ADC, Remote Viewing softeware, FirstMate Webview software
Two USB Ports
CPU
500Mhz Processor running with Windows Embedded 2009
A to D
16 Bit, 200 microsecond sampling rate
Operation Range
Up to 200 SPM with Resolver based System
Up to 800 SPM with CAM Timing based system
Display
10.4″ TFT color  touch screen
Display Resolution
Up to .1% full scale
Output Relays
Two dry contact mechanical relays for E-Stop and TOP-Stop connection.


Optional 3rd dry contact Output for sperate tonnage fault or Diverter control

Enclosure Size
14″ x 12″ x 6″ (direct replacement for TLG series LoadGard)