Signal Conditioning Module
Featuring High Speed Analog to Digital Sampling Rates
The Helm SCM-EU is a combination high speed strain gage signal conditioner and sine-cosine resolver input module. This universal module is best suited for applications where the monitoring of forces developed throughout the machine cycle is required. With high speed analog to digital sampling rate and resolver resolution of 0.1 degree, the SCM-EU provides high level signature analysis functionality. Available in one, two or four channels, the SCM-EU module is compatible with most PLC's and operator interface displays.
Metal Stamping
Plastic Molding
Die Cast
Assembly
Forging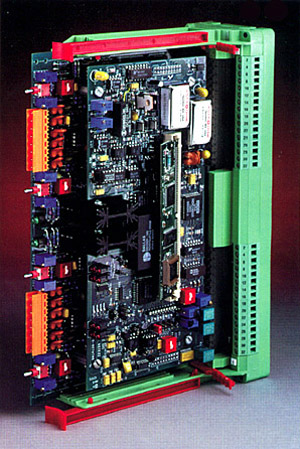 All necessary force measurement functions including signal conditioning, a regulated power supply and Helm's patented AUTO-ZERO™ no drift balance circuits are included in the SCM-EU module. The module meets worldwide low voltage network standards for installation and performance.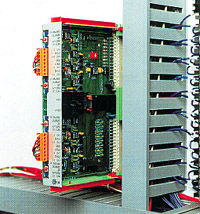 One, two or four channels
Sine-cosine resolver input
Multiple Applications
Small compact size
Signature Analysis
| | |
| --- | --- |
| Power Requirements | 24 volts DC @ 660mA |
| Analog Digital Sampling Rate | 200 microseconds |
| Speed Range | 0 to 600 SPM |
| Communication Port | 422 |
| Sensor Input | 175 ohm, 350 ohm or 700 ohm strain gage |
| Resolver Input | Sine-cosine 12 bit, 0.1 degree resolution |
| Timing Input | 24 volts DC for cam switch, proximity probe or PLC interface |
| Discrete Outputs | Two independent outputs 10-30 volts DC each |
| Recorder Output | Track signal from 0 to 4 volts |

Helm HR-1101 Sine-cosine resolver interfaces with the SCM-EU module for thru the stroke monitoring. Press curve and delta track alarming techniques are also available.
Helm manufactures a complete line of standard and custom load cells. Our transducer engineers are available to discuss your specific force measurement applications.
Ordering Information
↑Top↑
Each module supplied with card cage assembly for backplate mounting. Includes screw terminals with user connections.
SCM-EU1 – One channel
SCM-EU2 – Two channel
SCM-EU4 – Four channel